Even though this thing is an inexpensive & fairly low-end rocket stove, since putting the short extension on it, I've actually come to like it quite a bit. I got to wondering how well it could effectively/efficiently use other fuels besides random sticks & scraps, and wood pellets came to mind. So out of curiosity, I made a mesh basket out of a cheap stainless mesh I bought off amazon. Pellets are only 1/4" in diameter, so couldn't use some 1/2" mesh stuff I already had on hand, at least not without using two offset layers of it. This from amazon is stainless which my existing stuff isn't, so it does have the advantage of longevity, both from weather and fire/heat.
Just cut a piece off the 12"x24" mesh measured to fold up & fit inside the stick feed chute, and since the air feeds in from underneath the fuel, also tapered the in-stove end, making the actual burn area thinner, hoping it would allow for better airflow and hotter burn; thinking this would help reduce ash buildup at the same time. Came out fairly well, and works better than I'd hoped.
Holds maybe a quart of pellets or a little more, which burn for around a half hour if you don't refill it.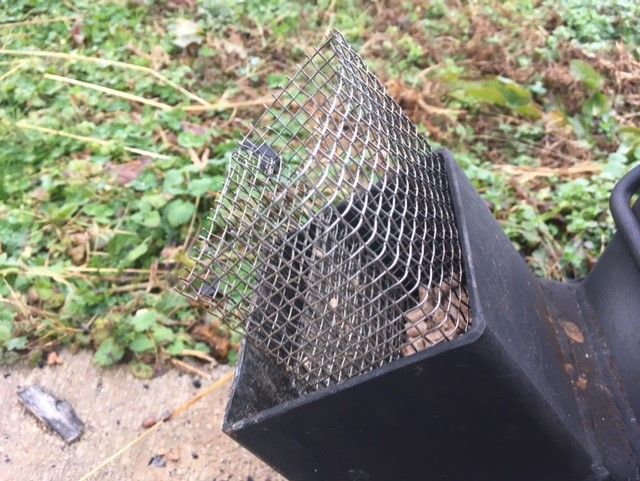 The inside end, tapered for airflow and fuel-stacking reasons: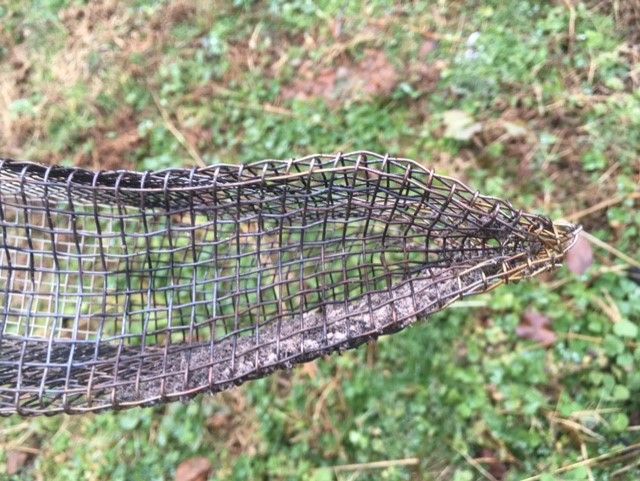 That was after three burns; two of wood pellets and one of cheap ol' roy dog food. The dog food was just to test other organic matter that would feed itself down the slope of the chute. It burned, but not as hot; only hot enough to simmer water, not really boil it. Sounds weird I know, but so much human snack food is good fire starting material that I thought I'd test it out. (Fritos especially are great fire starters. You can light one with a lighter.) The dog food didn't work well, but the cats will eat it. With pellets, there was only about a tablespoon of ash when it was done. With the dog food, there was a lot of ash & crap; not going to try that particular one again.
Don't know yet how long that thin stainless mesh will last. I did buy two of them so have a spare, but if it fails too quickly I may look into a perforated-metal type stainless sheet for a later version. Only time will tell. (Even if I sit around and "think about it" for hundreds of hours, the inescapable fact is, only time will tell how long it will last...) I don't really go camping anymore and so this isn't something I'll use on a regular basis; just something I'm playing with as much as anything. A 40-lb bag of pellets was $7.49 and equals roughly 38-41 quarts as far as I can tell. So 20 hours (probably 40 meals..?) of cooking fuel for less than $8, with no storage dangers as you have with propane, etc, sounds pretty good.
Also noticed that I never mentioned how to light it. You can light it with just about any tinder, typically twists of dry grass, leaves, whatever. Either slide them down the air intake chute below the fuel or just drop them down the chimney before you put the fuel in the feed chute. Either is fine, so long as the tinder is below the fuel. I've done it that way a few times but now I take the easy way and use either an esbit tab or half a trioxane tab. Light it, drop it down the angled air-feed chute below the fuel, and in 7-8 minutes, regardless of whether it's loaded with sticks or pellets it's burning hot enough that it's pretty much completely smoke free