I really like it. IIRC the app was $5 or $10 depending on which modules/functions you want, and the cartridges I bought from from both G-Sight and numerous other places including Amazon. Cartridges for 9mm, 38/357, 45acp and .45LC, and am pretty much happy with all of them. What I really like about them is that you're using your actual gun in its actual holster, so you get the normal draw stroke, weight, sight picture, trigger pull, etc; things that SIRT doesn't completely mimic.
I dug up some pictures (screenshots) that I saved the first time I played with it. This is the overall scene; the target a 5x7 sheet of paper at 16 feet: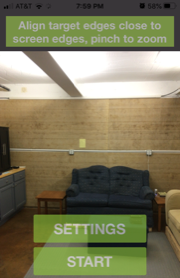 At that distance, it's too small for the camera to catch the laser hit, so you have to zoom in so the target fills up more of the screen. On the app, you can change settings to allow for one shot or multiple shots per string, change the randomized time interval between start beeps, etc. I set mine for five iterations of one shot each, and at the end it gives you a display of your hits (and misses):
At the end of a string (they call it a 'session'), you can go back and see info on the individual shots:
Mine aren't real fast, running 1.6-1.9 seconds on that run, but being an unfamiliar double-action gun from concealment (at aiwb) at that distance, I can live with it as a starting point.