From our pantry, a simple room I enclosed in one corner of our shop. Had shelves 1í wide along three sides, from ~3 ft off the floor to almost the ceiling; allowing a ton of storage in a pretty small space: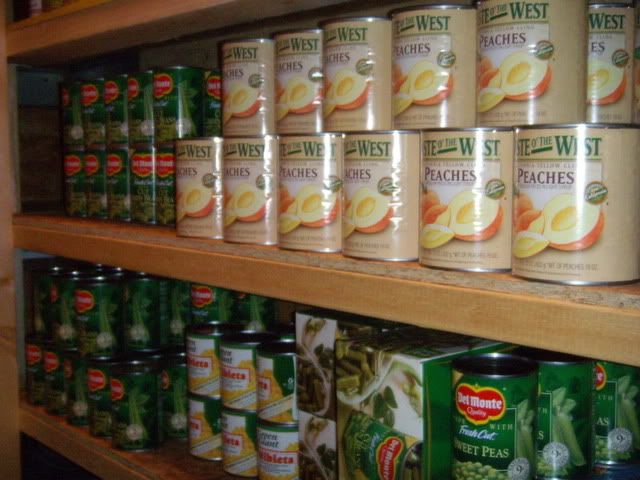 Since the shop itself isnít climate-controlled, I made the pantry climate-controlled with a simple window-style air-conditioner, with the A/C unit plugged into a receptacle that itself was controlled by an adjustable temperature switch. If plugged into a normal (always-on) receptacle, the A/C unitís fan ran 24/7, even when the compressor was off, so adding the temperature switch on the power itself just saved wear & tear on the fan motor. Think of these two pictures as being one; oriented just as they are. The blue box with the white cover is a normal always-hot outlet. The upper cord plugged into it runs up to the temperature switch above the next shelf up (just to give some thermal separation), and then back down to the receptacle in the surface-mounted galvanized box. The big white plug in that receptacle is the A/C cord. When the temperature switch senses a warm room, it kicks on power to the a/c unit, which cools the room until the temperature switch reaches its shut-off point and turns off power.
It took some experimenting and adjusting at first, but it's run for over a decade that way, keeping the room between 63 and 72 in the summer.
The other cord in the blue box (going down & to the left) goes to a plug strip, into which is plugged a simple electric heater that is set to come on at 45 degrees, to keep the room from freezing in winter; and a dehumidifier set at its lowest setting. Basically, this approach (once set up) kept the pantry between 40 and 72 degrees or so, year round with no maintenance or fiddling required. The dehumidifier kept the room at 35% humidity, which is VERY dry; meaning we could keep a box of normal breakfast cereal more than a year with literally no detectable difference in taste or texture, compared to fresh-bought. Low humidity makes a HUGE difference in the storage life of dried and powdered things like cereals, crackers, flour, etc.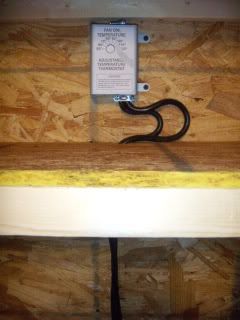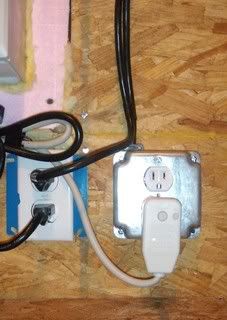 Pantry also had ultrasonic and subsonic pest repllers in it. I frankly never could get a firm understanding of which (ultrasonic or subsonic) worked best, so we did both just to be sure.