Quote:
Originally Posted by
justme
Split Nose feed configuration/length should be set to match that of the shortest readily available factory jhp...

...If you've put together or bought 100 rds of the Split Noses...
Once again (for the "I don't know how-many-eth time"), "how"..? How is the bullet shaped? What does it look like? You say it's no big deal to do with a "hacksaw and dremel", so show us.
A 70-grain cylinder (or disc) of copper that's .451" in diameter is 0.19" in thickness. There's no way around that, it's just unavoidable, mathematical reality. Put another way, thickness is 42% of diameter, darn near the ratio (38% thickness-to-diameter) of a hockey puck in shape, to give a visual reference.
I've asked repeatedly - how do we turn basically this shape: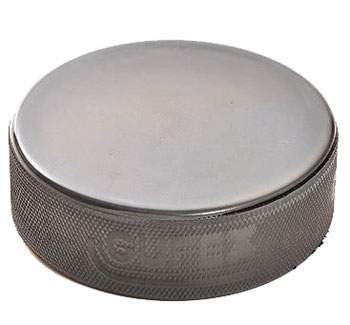 and -
while keeping the diameter unchanged
- turn it into something shaped like a "short, readily-available factory JHP"..?
We can turn it into a round-nose shape by hollowbasing it enough to shape it into something resembling the old "baby moon" hubcaps of the 60's if anyone remembers those:
I get how that's doable. But it's still just a cross between a wadcutter and an extremely-stubby FMJ.
But you say that your design not only has two points on the front, it's also long enough so that each half of the bullet (when split in half lengthwise) is longer than the .451" diameter of the bullet.
For a full-on manufacturing facility, it's almost certainly possible to do; they could cast odd, thin-wall shapes close to that weight, if not all the way down completely to that 70 grains. But how does a guy do as you say to do it - start with a 1/2" copper bar, and create it with a hacksaw and dremel tool?