And these are fragmented answers to questions by others.
================================================
Stage two.
Any ideas at all? Dumb in the first place to try a 175 in lieu of a 190? Any ideas before we bother Mr. McCoy?
Latigo
Latigo,
Mac adjusts his triggers to the absolute minimum sear engagement, with most of the weight in the first stage. I was sure that mine would double, but it doesn't. It has been very, very dependable. But mine is single lugged only at the back. (I went and dug my triple lugged rifle out of the safe a while back ... it was built be Clint Fowler, and the forward lugs are slightly different and located more forward).
These rifles are meant to be fired with the buttplate HARD into your shoulder, even in offhand where you can't use the sling. If you use a "soft" hold as in benchrest shooting, you are probably bump-firing it. The combination of the way the rifle recoils, and the trigger technique ("milking the trigger") will make it double, or even simulate full auto fire. I can do this on purpose, it gets folks attention with an M1A and ten rounds in the magazine. (if you are using your mechanical rest, you may get the same efect)
I would fire it in a good solid prone postition with a tight sling. If you want the security of a rest for ammo testing, put a sandbag under your gloved hand. If it still doubles, do the same with M72-equivalent 173 or 175 grain loads. If it still doubles, it needs some attention. The Easy Button would be a new hammer tuned for a bit more sear engagement. If all this doesn't work, then you need to talk the The Master himself. The "unkown" to me is how Mac's forward lug system may effect the way the rifle flexes under recoil forces, and how that may effect the minimum tolerable sear engagement.
Hope this helps ...
Resp'y,
Bob S.
#2 [-]
avatar
Posts: 2724
Apr 3 11 10:16 AM
Reply
Quote
Edit
Del
More
My Recent Posts
I think it does help. I was prone with the rifle bagged fore and aft. My usual way to pull the trigger on any rifle is to pull with folllow through and hold the trigger to the rear before making a conscious release............................. but considering his trigger setup, now I'm not so sure.
After doubling, I extracted the next chambered round and we noticed the primer was dimpled. I also think I remember having pulled the trigger after doubling and there was no release, just as if the hammer had not reset at all. I cycled the bolt and it fired the next chambered round ok.
Ok, so the load was with a FLS case, TTL less than manual length, primer seated just below flush, 175gr SMK seated 10 thous off the lands, 45.5gr of 4895 and a MV of 2540. I had a guy tell me about the US Army Manual data book listing the 173gr with 50gr of 4895. It sounded way wrong so I googled it and found there had been an error in TM 43-0001-27 saying that 50gr of 4895 was a match load with the 173gr projectile. I'm thinking now that I should have been at 46.5gr of 4895 anyway to make things work with the right MV and pressures. With a gas port tuned specifically for a 190, can chamber pressures that are too low cause any of this?
And the soft hold sure could have happened. I was excited about the whole thing anyway.
Latigo
#4 [-]
avatar
Posts: 2724
Apr 7 11 6:30 AM
Reply
Quote
Edit
Del
More
My Recent Posts
I was able to speak with Mr. McCoy last evening, probably for the last time. His protoge is taking over everything very soon now and I don't want to bother him again. At age 92 he doesn't need to be answering questions from someone into his first Garand. He was good enough to explain the exact nature of the rifle to me.
He said there is not a mechanical way for that rifle to double. It was all me. His exact words were, "Chamber each round with your fingers. Don't use one of those single round setups. Let the bolt close narurally. Breathe on that trigger, don't just pull it. Do all that and you'll be shooting right along with the best of them, but only if you're capable. The rifle already is. It was designed for 190s, so use 190s. The load we gave you is for military brass. Use it."
The gent taking over all of it is Mark Hendricks. He's been studying under Mr. McCoy for a long time and it now ready to keep the shop running with the same quality Garands. He's avaliable to me anytime I want to call, so I'm sure I'll have more questions later. We loaded 190 SMKs with Mr. McCoy's load data last night and we got load data from Mark for 175 SMKs as well.
I'll post targets after we take it all out to our range saturday or sunday. Its still pretty cold here so we'll be shooting from our ShootShed at the 100 yard mark. Its going to be a fun summer.
One thing I forgot. His load data is hot! A few of them with amounts over book maximums by a full grain, and one that's two grains over.
Latigo
Don (Mac) McCoy, now in his 90's and I just spoke to him and his protoge on the phone. Too much info to type right now, but I'll be back after we implement everything he asked us to do with the rifle with full explanations.
Don McCoy passed away just 4 days after I spoke with him. He'd been building competition Garands for the US Navy team since the early 60's.
R.I.P., Don McCoy, Master of the Garand
We were embarrassed to say it, but what really happened is that I didn't understand it we to be a single shot, non magazine fed rifle.
I had Lat load all eight rounds into the rifle, slow squeeze and,,,,,,,,,,, all 8 round went downrange with one trigger pull.
The other two triples have High Mastered many times over at camp Perry competitions. This is the only one of the three that had not been fired beyond proofing when it came to us.
Thanks for the links for sure, but I'd be nuts to mess with this very unique rifle. I'm very much hoping my son will be ready for Camp Perry in 2017, and 2016 if we can pull it off in time. He's an excellent shot but there are a number of disciplines he needs to master.
Thanks. Mr. McCoy's protégé is always there for us if needed.
Look at the differences between the McCoy and one of our issue M1s.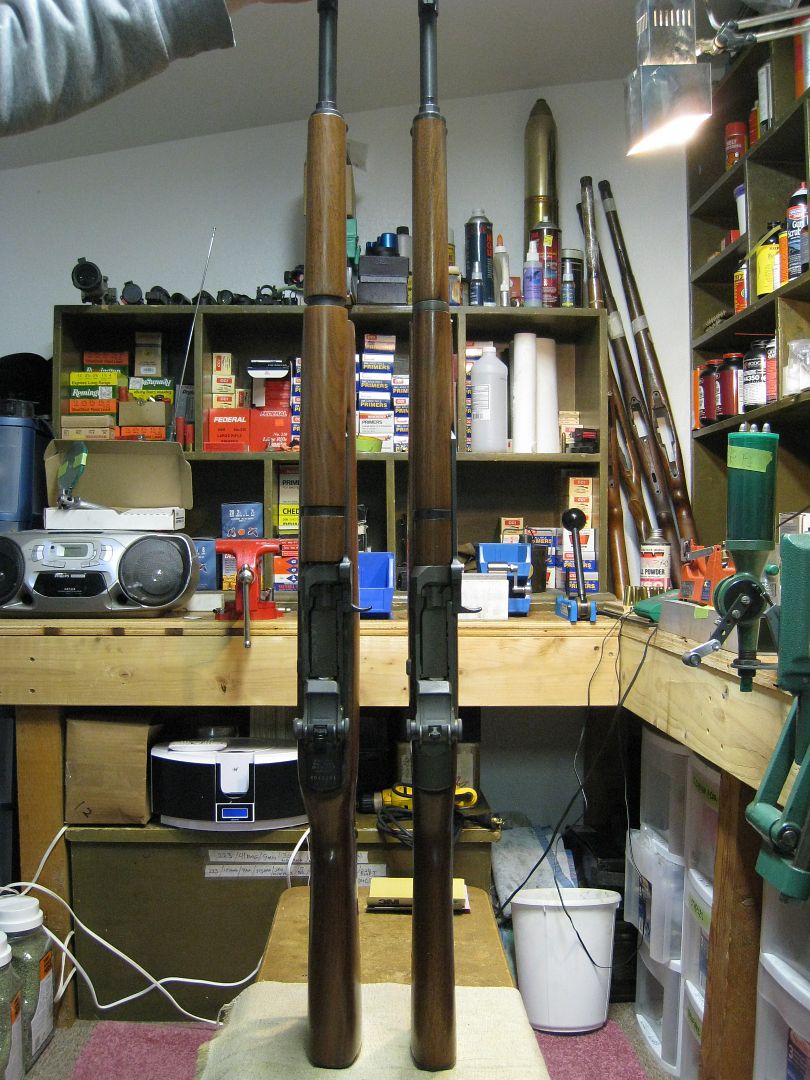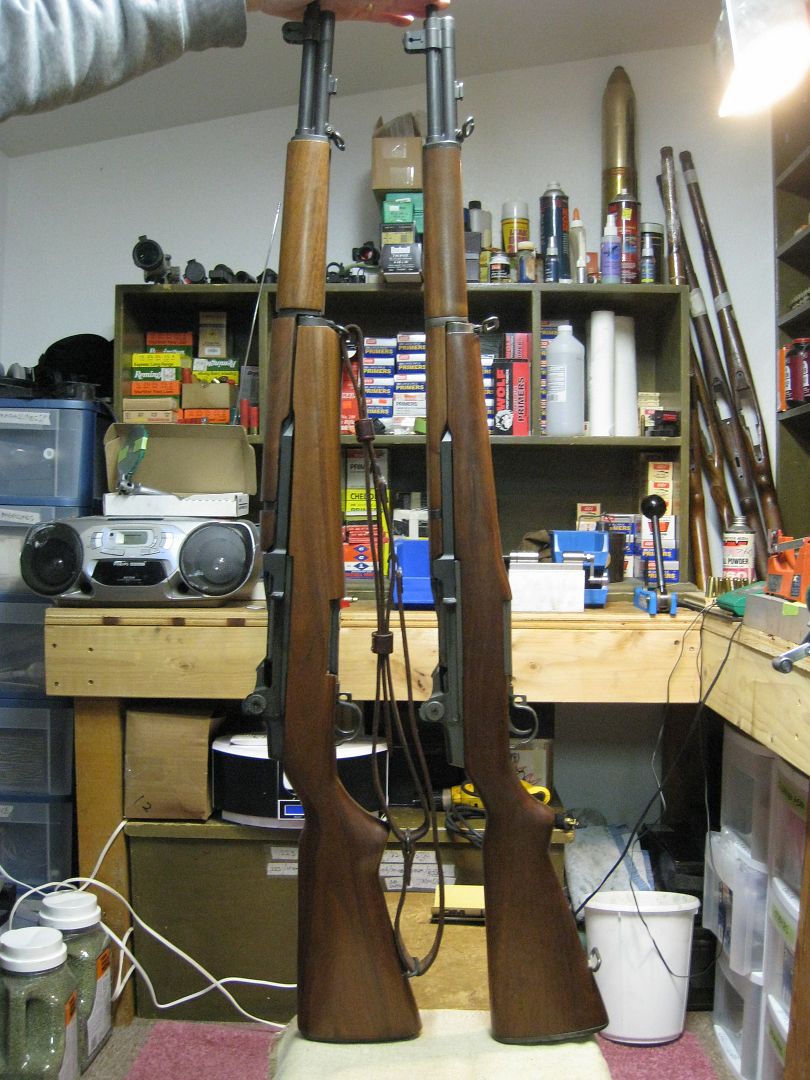 Yes, it doesTri70, and the engagement is completely solid. Tapping on the deck with the buttstock and jerking, mishandling, nothing would cause it to discharge without an actual trigger pull, and Dog......... McCoy and a few others that use that sort of rifle for competition said the same thing. He was milking the trigger without even knowing it. That rifle requires a solid hold and a hesitation after each trigger pull, meaning pull through and holding the trigger to the rear for a full 1 count, but it's only necessary if you're not doing the typical sling death grip on the rifle, pulling it in solidly to your shoulder.
We were able to duplicate the "milking" later on by purposely leaving a loose shoulder hold in prone and on the bench and a soft, loose trigger pull. Doubling and tripling did occur, and of course accuracy went out the window. That can factually be caused to happen with any rifle with a good competition trigger.
And to put all of this in perspective.............
It's always nice to say a rifle will shoot like a house afire at 1,000 yards, but...... The reality is that the rifle can't do it alone, and in a practical life event situation, do you really think any of us would be shooting that far? .... or even half that far, or with one carefully hand-fed round at a time? This is certainly more than a toy, and it's most certainly fun to do this sort of shooting, but when push comes to shove this one would be sitting in the rack.